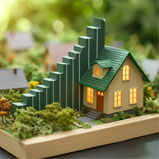 Remortgages
Make your existing mortgage work harder for you.
Why remortgage
Why should you remortgage and what will you gain by switching your mortgage deal or even lender? Read on to find out the top reasons to remortgage?
Remortgaging to a lower interest rate could save you a considerable amount of money
If you are on a variable rate you could remortgage to a fixed rate getting a more secure deal
Remortgaging to make home improvements may add value to your property
Choose a flexible mortgage where you can overpay, underpay or take payment holidays. Without prior overpayments, this may result in additional interest and repayments at a later stage.
You could consolidate your credit card and personal loan debt into your mortgage. Adding additional debts to your mortgage may extend the repayment term of the debt and increase the overall cost.
Invest into buy to let property
Help your children get onto the property ladder
Remortgage to raise some capital and release cash for a one-off purchase, bearing in mind the life/duration of the purchased item.
Get a better service with new lender
If you bought your house with a bad credit profile your interest rate might be a much higher than for a 'mainstream' borrower, consult a mortgage broker to see if you could get a better deal based on your current individual circumstances and needs
If you are thinking about remortgaging and would like to consult a professional mortgage broker please contact us.